GVM KKX-WM01 Clip-On Wireless Microphone System with Lavalier Mic for Cameras & Smartphones (2.4 GHz)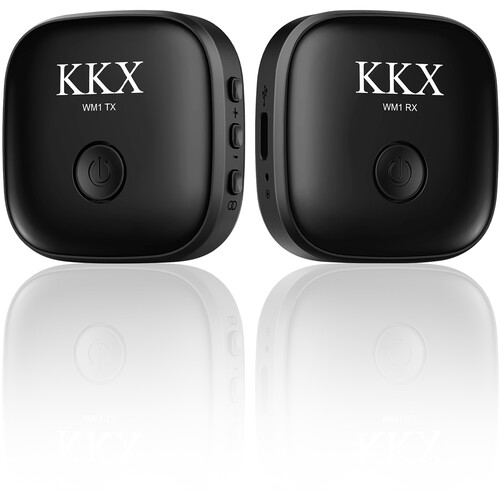 GVM KKX-WM01 Clip-On Wireless Microphone System with Lavalier Mic for Cameras & Smartphones (2.4 GHz)
Key Features
For Vlogging, YouTube, Streaming, TikTok
1-Person Shoot to Camera/Phone/Computer
Clip-On Transmitter/Mic + Lav Mic
Clip-On Receiver with Headphone Jack
Automatic Pairing for Easy Operation
3.5mm Cables for Camera & Mobile Device
USB-Rechargeable 4-Hour Batteries
Up to 164' Operating Range
The KKX-WM01 from GVM is a compact wireless microphone system providing hands-free audio for videos on Instagram, YouTube, and TikTok or for live-streaming, vlogging, meetings, interviews, and online classes. It offers a complete, versatile, and simple-to-use solution for recording conversations and speech directly to a mirrorless/DSLR camera or a mobile device with a 3.5mm headphone jack.

The KKX-WM01 consists of a small, lightweight clip-on transmitter with its own built-in microphone along with an included lavalier mic that can be used if you prefer a more discreet mic setup. The lav includes a foam windshield to protect against breath and wind noise. The system also includes a small clip-on receiver that mounts on your camera or mobile device and connects to its 3.5mm input jack. Both a 3.5mm TRS cable, for camera and computer use, and a 3.5mm TRRS cable, for smartphone use, are included.

The system delivers reliable transmission with clear sound at a line-of-sight distance up to 164' (98' with limited obstacles). The receiver features a 3.5mm headphone jack, enabling you to monitor your audio in real time. The built-in rechargeable batteries provide up to 4 hours of operation and recharge via USB Type-C ports. A split USB charging cable is included that allows you to charge both components at the same time.

Clip-On Transmitter with Built-In Mic + Lavalier Mic
The compact transmitter is equipped with both a built-in microphone and a 3.5mm input that accepts its included lavalier microphone.
The transmitter can be clipped to your collar, tie, or pocket without having to wire yourself or your talent, providing a fast, truly wireless setup.
Use the lavalier if you prefer a more discreet look and have time to mic up your talent.
Compact Single-Channel Receiver
The tiny, lightweight receiver features a clip to attach to cameras and mobile devices.
The receiver features a 3.5mm output jack.
3.5mm cables for mobile devices and cameras are included.
Straightforward Menu-Free Operation
The system is easy to use, and the components pair automatically.
The transmitter and the receiver are powered for up to 4 hours via a built-in rechargeable battery.
The components feature LEDs to indicate battery status.
A split USB charging cable is included.
Monitor in Real Time
If your camera doesn't have a headphone jack, you can monitor your sound via the receiver's 3.5mm headphone output while recording to ensure that you are capturing a clean signal.
2.4 GHz Digital Wireless
To avoid interference from TV and radio waves, the system operates in the 2.4 GHz frequency band—far away from television, radio, and UHF wireless microphone transmissions.
The system offers a line-of-sight operating range up to 164 feet or up to 98 feet when some obstacles are present.
For optimal performance, environments with limited Wi-Fi/2.4 GHz traffic and minimal physical obstructions are recommended.
The system offers a low latency of only 10ms.